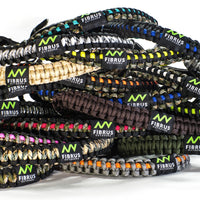 WHY FIBRUS BOW SLINGS?
USING A BOW SLING IS OPTIONAL. HAVING CONFIDENCE IN A BOW SLING IS MANDATORY. WHEN OPPORTUNITY ARISES, AND YOU'VE GOT ONE SECOND TO TAKE CONTROL, YOU NEED A PRODUCT THAT ELIMINATES ALL DOUBT. FIBRUS PROVIDES THAT CONFIDENCE, AND THAT CONSISTENCY WITH EVERY CUSTOM PARACORD PRODUCT. WE OFFER A LARGE VARIETY OF COLOR OPTIONS. WE'VE MADE YOUR COMMITMENT TO SUCCESS MUCH EASIER.
SEE ALL MODELS
WHY FIBRUS GUN SLINGS?
THE WALK TO THE DEER-STAND, GROUND-BLIND OR BOX STAND JUST GOT A HELL OF A LOT EASIER. NO, SERIOUSLY. ELIMINATE THE HASSLE, AND STRAP ADJUSTING WITH EVERY STEP BECAUSE YOU'VE GOT MORE IMPORTANT THINGS TO WORRY ABOUT. CONFIDENTLY STRAP UP WITH UNPARALLELED GUN SLINGS THAT FUNCTION WELL, AND LOOK THE PART. SHOOTING THE BIG BUCK, NOW THAT'S ON YOU.
SEE ALL MODELS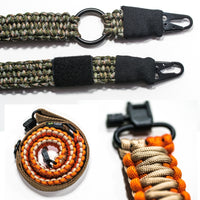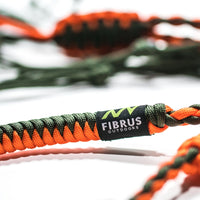 WHY FIBRUS DUCK LANYARDS?
RUFFLE SOME FEATHERS IN THE DUCK BLIND WITH YOUR CREW. GET LACED UP WITH OUR LANYARDS THAT NOT ONLY FLASH, BUT ARE PROVEN FATAL IN THE FIELD. WE CAN'T PROMISE YOU'LL BE A DEAD-EYE ON THOSE LOCAL WOODIES, BUT YOUR CALLS WILL BE ON DEMAND. CONFIDENTALY CALL IN THOSE GREEN HEADS, AND LOOK GOOD DOING IT.
Shop Now